REMINDER
Sweat Classes will be held on Tuesday @ 4pm and Thursday @ 7pm. Bring a friend and come try it out! 5$ drop in!
It's a new month, we need new goals on the goal board!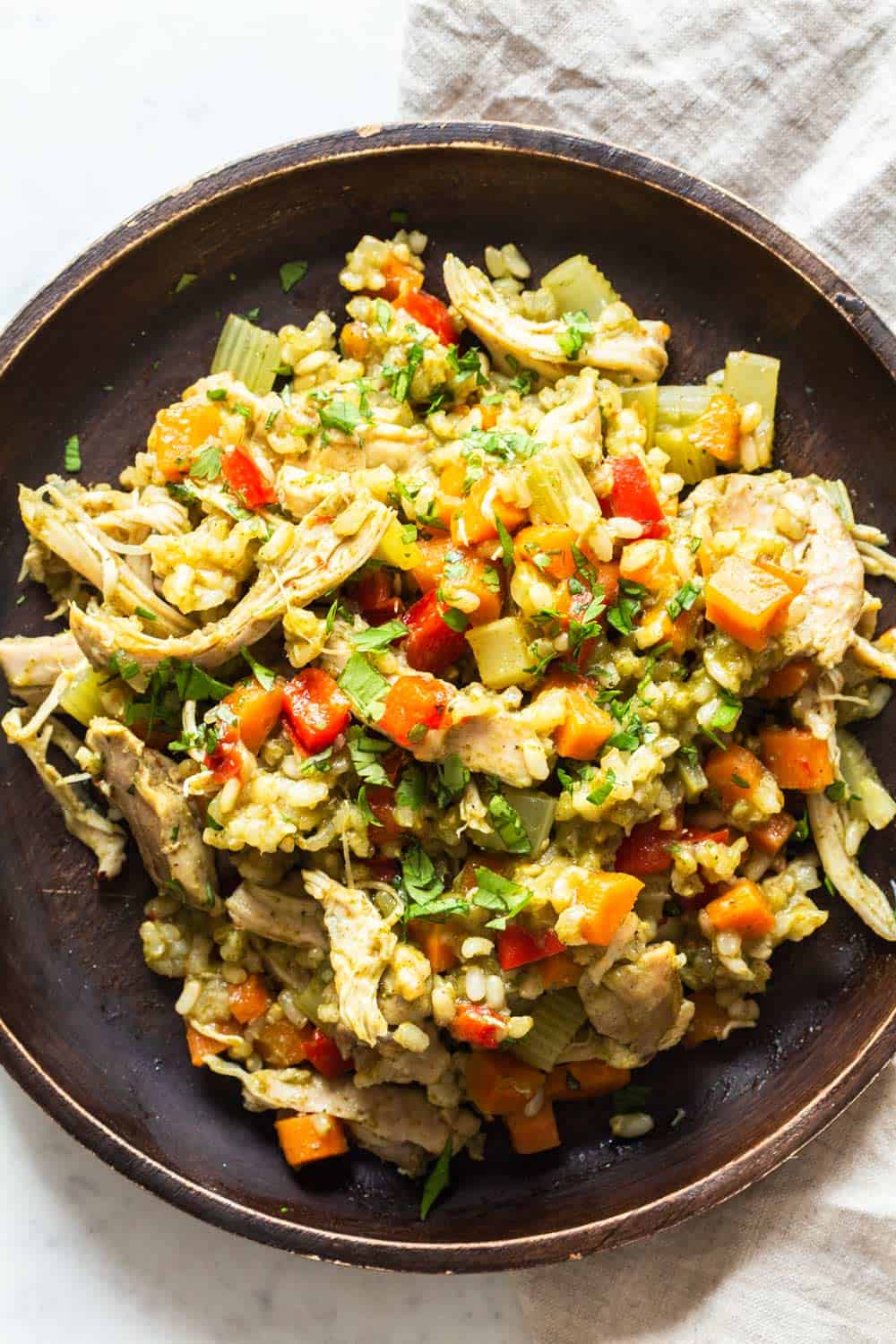 Crock Pot Chicken and Rice
This Crock Pot Chicken and Rice recipe is Peruvian-inspired and super flavorful. A healthy crock pot recipe full of vegetables, delicious cilantro, fiber-rich brown rice and yummy chicken thighs.
Cuisine
International, Peruvian
Total Time
3
hours
20
minutes
Ingredients
1

small

onion

2

cloves

garlic

2-3

tsp

oil

1/2

bunch

cilantro

1 1/4

cups

water

1

cup

diced red bell pepper

1

cup

diced carrots

1

cup

diced celery

1

cup

short-grain brown rice

4

skinless boneless chicken thighs

sea salt

pepper

1

Tbsp

ají amarillo

(optional but recommended. A Peruvian yellow chili, often sold pureed in jars)
Instructions
Prepare veggies: Peel and dice onion and peel and crush garlic. Wash, deseed and dice bell pepper. Peel and dice carrots. Wash and dice celery.

Prepare cilantro water: wash cilantro, shake excess water out a little and add to a blender, stems and all. Add water and blend until smooth and more more herb leaves float around.

Prepare sofrita: Preheat a small pan over medium heat, add a dollop of oil and fry diced onion and crushed garlic until nice and brown. If you have, add Peruvian ají amarillo once onions are translucent.

Crock Pot Prep: Add sofrita, brown rice, sea salt, pepper and cilantro water to crockpot and give it a quick stir. Add diced vegetables on top without mixing into the rice. Just smooth out into one layer. Then top everything with salted and peppered chicken thighs.

Cook: Add the lid to the crock pot and seal it. Set the crock pot to high and adjust the timer to 3 hours. Ensure with a meat thermometer that the chicken's internal temperature is at least at 165F.

Serve: Use two forks to shred the chicken and mix everything well together. Season with more sea salt and pepper if necessary and plate.
Nutrition Facts
Crock Pot Chicken and Rice
Amount Per Serving
Calories 377
Calories from Fat 72
Daily Value*
Total Fat 8g 12%
Total Carbohydrates 47g
Protein 26g
It's Mckenzie Hansen's birthday! If you see her wish her a happy one!
FRIDAY 6.7.19
A. "Sugar Daddy"
21-15-9
Deadlift 225/155
Box Jump 30/24
*10 Min Cap. Retest from 4/7/17
**RX+ 275/185
B. Accessory
5-7 sets:
10 Bent Over Row/side
5 Bottoms Up Press/side
*Both AHAP