REMINDER
Sweat Classes will be held on Tuesday @ 4pm and Thursday @ 7pm. Bring a friend and come try it out! 5$ drop in!
It's a new month, we need new goals on the goal board!
We will only be having 1 class for the 4th of July at 7 AM. Hope to see you there!
No gymnastics class this week with the holiday
Signing up for the Fair Fundraiser is live! To sign up click here!
Reminder that signing up for the fair hero workouts is live above! Make sure you sign up for some workouts! We had an awesome turn out last year, hope we can make it even better this year!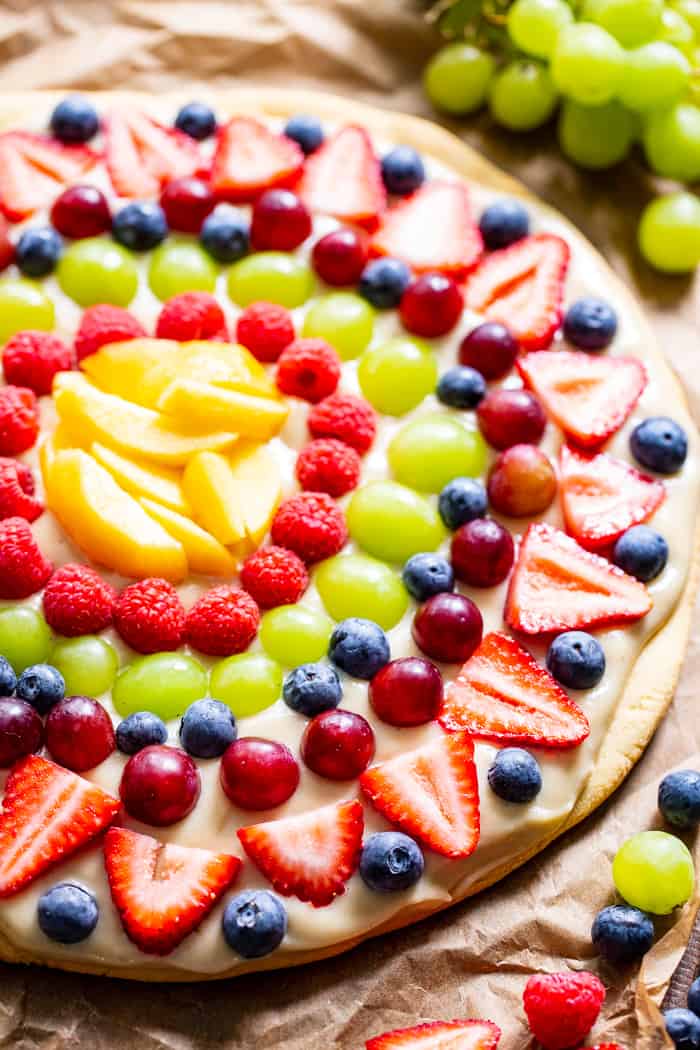 This paleo fruit pizza has a sugar cookie crust with a cashew "cream cheese" icing and all your favorite seasonal fruit on top! It's gluten-free, grain free, paleo, and the perfect dessert for summer gatherings.
Ingredients
"Cream cheese" frosting:
Crust:
Instructions
Frosting:
Make the frosting first. Place all ingredients in a food processor or high powered blender and blend until smooth, or relatively smooth. Chill until ready to top the crust.
Crust:
Use an electric hand whisk to cream together the ghee and maple sugar until smooth. Add in the vanilla and egg and continue to beat until smooth. Stir in the almond flour, tapioca, baking soda, and salt until a dough forms. Chill the dough in the refrigerator for 20-30 minutes. At this time, preheat your oven to 350° F.
Line a 12" round pizza pan with parchment paper. Press chilled cookie dough evenly over the parchment to form a round crust.

Bake the crust for 10-12 minutes or until set and beginning to turn light brown. Remove and cool completely on wire racks. While the crust cools, slice your fruit to top.

Once crust is room temperature, spread the chilled frosting all over starting in the middle and working your way out, leaving a 1" border on the outside. Top frosting with sliced fruit and either serve right away, or refrigerate util read to serve. Enjoy!
Recipe Notes
*I used strawberries, blueberries, grapes, raspberries and nectarines but you can also go with kiwi, banana, mandarine orange or anything you like!
Since yesterday was a little brutal we'll have more of a "recovery" day for today. This doesn't mean it will be easy, but this shouldn't beat you up. If anything, you should feel awesome after dong something like this. Keep in mind your score is the row's so make sure you're going fast on these!! Have a great weekend!
FRIDAY 7.5.19
A. "Refresh"
In a 40 min window
5 rounds:
5 DB Strict Press (each arm)
10 DB Bent Over Row (each arm)
15 Abmat or GHD Situp
20/15 Calorie Row SPRINT!
*Rest 2-3 min between rounds.
**Score is combined time of all 5 row sprints